Are you looking for the perfect kids entertainer for your upcoming event.? If so, you have come to the right place. In this blog post, we'll provide you with a comprehensive guide on booking the ideal entertainer for your kid's party or special occasion. We will cover topics from factors to consider when making this important decision to tips for selecting a suitable entertainment package that is sure to ensure an unforgettable event. So let's get started!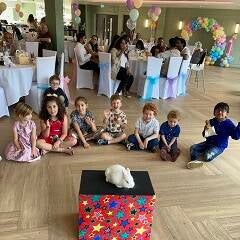 Introduction

When it comes to hosting a children's event, one of the most important decisions you can make is booking the perfect entertainer. Whether your event is taking place in 2023 or beyond, this guide will provide you with all the information and advice you need to get started on finding and booking the perfect kids entertainer for your special occasion. From identifying your budget to researching different types of entertainers and reading online reviews, we'll cover every aspect of what goes into making sure you find an amazing performer who will have everyone at your event smiling from ear-to-ear!

Factors To Consider Before Choosing An Entertainer

When you're looking to book an entertainer for a kids party or event, there are several factors that you should consider. Firstly, it's important to think about the type of entertainment that will work best for the group. Are they expecting music, dancing, party games and activities? Additionally, look into the entertainer's experience level and reputation in the industry. It is wise to read reviews from past customers for an unbiased view of their performance. Lastly, make sure that you are comfortable with the price offered by the entertainer - ensure that it is within your budget and covers all necessary services. By taking these factors into consideration before booking an entertainer, you can be sure that your event will be successful!

Finding The Right Kids Entertainer

Finding the right entertainer is an important step in making your child's next birthday bash a success. When searching for a kids entertainer, there are some key points to keep in mind. Consider if the entertainer specializes in your child's age group, whether their energy level fits the space and budget you have available, how long they have been working as an entertainer, and if they offer activities that will keep children engaged for the duration of the show. You can also ask for references from other parents who have hired similar entertainers or contact local party businesses for recommendations. Once you find a suitable candidate, be sure to book them well in advance to secure their services for your event!

Tips For Selecting A Suitable Entertainment Package

Booking the perfect kids entertainer for 2023 will make your event an unforgettable experience. When selecting an entertainment package, there are several things to keep in mind. First, consider your budget and select a package that keeps within your price range. Secondly, research different packages available to ensure they meet the quality standards you desire. Thirdly, talk to friends and family who have previously booked kids entertainment shows to get their feedback and any tips they may have to help you find the perfect package. Finally, always read reviews and ask questions of the entertainer before committing so that you can be sure they are a good fit for your party or event. With these tips in mind, you're sure to select the perfect entertainment package for your 2023 event!

Making The Most Of Your Chosen Entertainer

Finding the perfect entertainer for your kids' party in 2023 should be a fun and exciting experience. To make sure your chosen entertainer lives up to your expectations, there are some important steps to take to ensure that you get the most out of your entertainer. Start by researching a variety of entertainment options, from music, storytelling and magic acts to face painting, balloon animals and party games. Once you've narrowed down your list of potential entertainers, contact each one and ask questions about their experience level and performance style. Before you commit to any particular entertainer, it's also advisable to view samples of their work or even attend a live performance if possible. Finally, don't forget to make sure that everyone involved is comfortable with the arrangement before making an official booking. By following these guidelines when selecting an entertainer for your 2023 kid's party, you can rest assured that you're doing all you can do to ensure that everyone has a blast!

Conclusion

In conclusion, booking the perfect kids entertainer for 2023 is possible with the right methods. Planning in advance and doing research on your potential entertainers will help ensure that you have a successful event. Be sure to speak with the entertainers to determine if they are a good fit for your audience, budget, and theme. Keep in mind any special requests that you may have and make sure to ask plenty of questions before making your final decision. With proper preparation, you can rest assured that your event will be memorable and enjoyable for everyone involved!
If you are looking for an ideal children's entertainer for your child's Birthday Party, School fair, Wedding or special event then why not take a look at a leading party magician - Derby Children's Entertainer Stuart Brown - who has many different party and event packages to suit your needs.